Reunions and actions
Interview with Vibratory.net
An Interview With a BDSM Photographer: I Create an Art Photo, Not Pornography
How does an alternative style photoshooting look like? We asked a BDSM photographer, who let us peek behind the curtains of his spicy job.
Ever thought of getting your fetishes eternalized? It would be a probable miss in a classical studio, fortunately there are skilled enthusiasts who devote their every single day to kinks. There are no taboos in Kiphos studio, where they specialize on pony-play, puppy-play, latex, leather, spandex, CBT or shibari.
Does a BDSM photographer have his own fetishes?
BDSM photography is a very untraditional genre, how did you get to this? Do you have your own fetish?
Good question, Šarlota. It was nothing untraditional or exotic for me, as it might appear. I was attracted to photography since my childhood and I have felt an interest for fetish some time in my earlier teen years. Especially, latex and various animal forms belong to fetishes that I really enjoy. More or less it was just a question of time when I interconnect these two passions into one.
Are you just an admirer of latex or do you like to wear it? Our readers would definitely be interested in finding out, what is hidden in your fetish wardrobe.
I feel latex as my second skin, thus as a natural thing. I have been interested in this material for many years and I managed to collect a number of very interesting pieces in my wardrobe. My favorites are especially an inflatable catsuit, crossdressing catsuit (latex full body catsuit with pouches for epitheses) or catsuits and accessories combining some color parts (most often black and red or black and yellow etc.)
Which form do you take most often?
I like to change my form to a horse, which I am fascinated by since years. A majestic and elegant animal which looks phenomenal in its latex reincarnation (see a story in IDNES where I acted alongside other Czech ponny players). - WARNING - Article is in czech language without subtitles
What do you like most on taking photographs?
I like most creating something unforgettable and exceptional together with my clients. Simply something the client will remember with a smile for a very long time. When you are "in the making" with your client, you should have control the situation fully, approach it professionally, but let your clients express themselves. This is the only way to let the pictures be truly personal, authentic, impressive and have an intended effect. It is important to feel the portrayed person's character, mood and inner beauty in the picture.
Which fetish theme is you favorite one?
I mostly focus on photoshoots in latex, which is – in my opinion – one of the most beautiful materials ever invented. It fits ladies as well as gentlemen. It emphasizes their natural beauty and lends them an additional sex-appeal. Besides latex, I take pictures in leather, lycra or PVC, as well as various animal costumes, which are broadly represented in my portfolio as well.
Porn or not a porn?
Is there any border you would not overstep? If the clients were interested, would you take pictures with them doing sex?
It is very good that you asked this question, Šarlota. As your readers may assess from the pictures in this article, I create art photography, not porn. I have nothing against this genre and I fully understand its raison d'étre, however, I create something different. A fetish represents a part of the personality of the portrayed person and need not always intersect with his or her sexuality, despite that it usually is closely related to each other.
Are there any proven tricks which remove the imaginary border between a client, usually with no experience in front of a lens, and a photographer?
Many clients are asking this and I am happy to have a chance to explain it to your readers. It is really essential to have a talk with the client, discuss and agree what are his expectations and what are his requirements regarding the output. This is purely subjective and therefore it is ultimately necessary to get most information in advance. Once the client starts to think about the photoshooting and pass the vision, his or her concerns or even fears brought in with him or her are gone and the client is slowly becoming prepared for the photoshooting. In the meantime, my partner, who takes care of all supporting activities, prepares everything that will be needed and we can start taking pictures. It should be noted that I myself do photoshoots in latex very often so the client can see there is nothing to be feared.
Is it always going smoothly or does sometimes go wrong in any way?
Despite our efforts to prepare everything needed for a smooth photoshoot in advance, equipment sometimes lives its own life. Fortunately, it only happens very rarely and we have a backup so that we can continue our work without any considerable inconvenience. A bigger issue is an unpredictable weather which can never be forecast with 100% certainty, or there can be a problem on the client¨s side (typically a glued seam of a latex attire gets loose or breaks). If such a problem emerges, it is never a problem to move the photoshoot to another day. Alternatively, we can move to our fully fitted studio, including an air conditioning for those very hot days.
How long does one photoshoot take?
In average we talk about two or three hours for one photoshooting, which includes the time spent on agreeing the contract and dressing up. The photoshoot itself takes between one to two hours including rest and refreshment breaks. After the photoshoot, a shower is available for our clients. Latex lovers know what I am talking about.
How does a photoshoot work? Do you instruct clients or do you let them express themselves?
As I already mentioned, I control the photoshoot but give clients an option for their self-expressing. When I notice it is necessary to put the client in his role more, I take on an initiative, should the opposite be the case, I try not to interfere to retain maximum authenticity. My partner takes care of lights, controls technical side so that everything runs just fine. He always takes care of printing the client sets according to clients' wishes.
Do you take photographs just in your studio or do you do outdoor photoshoots in the open?
We do both indoor (studio) and outdoor photoshoots. The client decides what suits him or her best. Of course, we can do a home photoshooting (when e.g. the client has a BDSM equipped room etc.) or we can take pictures outdoors in the locations where we can make it convenient thanks to a catering. With us, everyone can become a fetish star being taken care of by the show business standards.
Do you lend costumes or props or do the clients need to bring their own?
We have props as such for the photoshoot (handcuffs, gags, masks and hoods, leather or latex gloves, moto helmets and some shoes as well). As a new option we offer a photoshooting in an inflatable cocoon or a vacuum cube. Unfortunately, we cannot have a wide variety of costumes and latex attire including the full range of sizes. When the client does not have any latex clothing, it is possible to contact e.g. Simon-o.cz, a latex fashion manufacturer, whom we have a close cooperation with.
Glimpses from the studio
Are there any spicy events from your photoshoots?
We had a funny incident some time ago, when, after the photoshoot, our client went to undress and realized the key from his collar was safely at his home. When dressing up, clicking the padlock in was an easy step, to unlock it required a key. Mercifully, my partner had a similar lock and the key fit in. Thanks to this swift action the client was not forced to wear his collar on his way back home to Prague.
Is there any photographic dream you would like to become true?
I would like to expand beyond the borders of the Czech Republic and pass my visions, ideas and creative skills from our beautiful country to abroad. I am convinced there is much we can offer.
Thank you for the interview. Finally, one last question: is there anything you would like to say to our readers?
Absolutely. If there is anything at the back of your mind you would like to do, don't look around, disregard the neighborhood and stereotypes. Simply listen to your heart and make your dreams happen as soon as possible. When founding Kiphos.cz we had the same approach and now we do something that makes us both happy.
Author: Šarlota
Link: https://vibratory.net/magazin/rozhovor-s-bdsm-fotografem/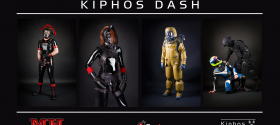 K I P H O S - D A S H
Dear fetish friends,
due to the ordered quarantine with regard to the COVID-19 contagion we postpone our event to a later date which will be announced later on our channels: Facebook, website Kiphos.cz, Instagram and Twitter. Follow us further!
Your Kiphos.cz
--------------------------------------------------------------------------------
Dear Fetish Lovers, we invite you to the very first Kiphos Dash which will take place on June 5-6, 2020 as part of the grand opening of the Kiphos Photos Studio with an entertainment program anchored by Master Drex, which includes a shibari show by Def Dekongice, contests for doggies and horses and attractive prizes. Entry 18+ years of age, obligatory dress code (latex, lycra, leather, rubber), maximum of 50 guests. Accommodation in a very nice guest house in Moravia. Price without accommodation (dinner): 350 CZK ( 14 € ), price with accommodation (dinner and breakfast): 1,250 CZK ( 50 € ). More information upon sending us a registration e-mail.
Sponsors: www.bugshop.cz www.mhsexshop.com
Anchoreds: Master Drex, Igy
Performers : Def Defkongice